Some people love to have the best. Or the biggest. Or fastest. Whatever the upper limit happens to be, someone will strive to acquire it. 
In the case of RC cars, that would probably be the Traxxas XO-1. 
As we noted in a previous article, the online buyer's guide Android Central stated that,
"The Traxxas XO-1 is the fastest RC car, full stop. The largest brushless motor on offer propels the car from 1 to 60 in 2.5 seconds. Not only is this car stylish, but it also reaches speeds over 100 miles per hour."
We went on to profile this speed demon of a car in a subsequent article and determined that, while it is indeed likely the fastest RC car in the world, it's also likely a bit much for most RC car drivers to handle. 
Speed is always relative and, when it comes to scale toy cars, it is doubly so. 
How Fast is Fast? Watch the Video!
How Fast is "Fast" if You're Only Nine Inches Tall?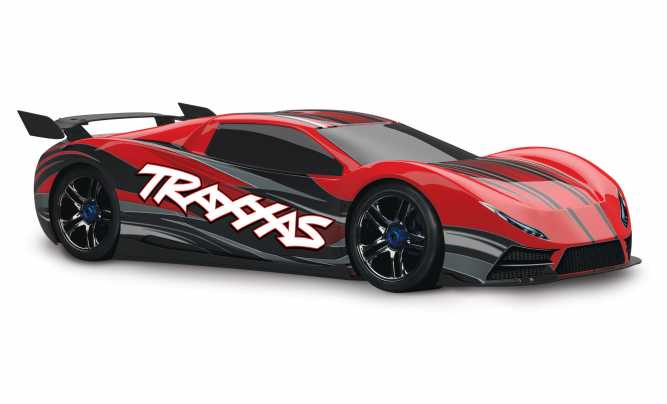 When folks come in to purchase an RC car, especially a race car, most people just ask, "How fast does it go?" But what they don't understand is how their perception changes with the size of the model. 
For example, many RC cars are produced on 1/8th scale. For those who might be unfamiliar with scale, that simply means the car is only an eighth of the size of its real-world, full-sized counterpart.
And the typical driver of that scaled-down version would probably be just under nine inches tall.
If a 1/8th scale car is capable of 15mph down the street in front of your house, you might think it's pretty quick but not blazing fast. However, that speed is the scale equivalent of 120mph so it's quite likely your nine-inch tall driver would probably think that's pretty fast!
It is for this reason, we don't recommend purchasing the fastest RC car in the world.
Here's are few more examples of RC models we carry here at Fundemonium:
1. Arrma Granite
The 1/10 scale standard motor trucks like the 4×4 Arrma Granite that hits about 35mph, but at scale speed that is 350mph.
2. Desert Rush
Take the 1/18 scale 4×4 buggy Desert Rush that goes about 20mph. Most kids might think that's utterly unimpressive. But a 1/18 scale car at 20mph is like a real car going 18 times that speed, or 360mph. That's half the speed of sound!
3. Arrma Felony
The Arrma Felony is a 1/7 scale muscle car that can do 80mph right out of the box, or the scale equivalent of 560mph.
4. Traxxas Slash VXL
Other 1/10 high-performance brushless motor trucks like the Traxxas Slash VXL, a short course RC truck, can easily go over 60mph, which at scale is 600mph.
Oh yeah – and the legendary Traxxas XO-1? At a 1/7 scale, its top speed of over 100mph means its little driver would be hanging on at up to 700 miles per hour. For context, remember that the speed of sound is about 767mph. 
If that car were full-sized it might come close to breaking windows in your neighborhood with sonic booms!
What Do You Want from Your RC Car?
Speed isn't always an essential or even primary feature for many RC cars. 
What do you want to do with your car? Drag race or race through courses? Or is your favorite thing climbing rocks and other obstacles? For some it's off-road racing. Generally speaking, there are five main categories of RC vehicles:
Touring cars

Buggies

Short course trucks

Crawlers
Of these types, only two of them really rely on speed. In fact, RC crawlers are designed for low speed and are adept at challenging all kinds of rugged terrain.
What many people do not realize is that having an RC car that hits speeds of 60mph or more means that it is difficult to find large enough spaces to make use of that speed. For example, the Traxxas XO-1 Supercar described in a previous article might be great to own, but how often do you have access to an abandoned airfield or a half-mile of smooth road for it to go that fast?
Also, when most people ask about speed, what they are really thinking about is the acceleration of the RC car rather than its ultimate top speed.
For most RC owners – and kids especially – what's really fast and fun for an RC car is jumping away from the starting line, popping wheelies, and accelerating out of a curve. And you don't need a super-fast car for that kind of fun.
Fundemonium is the Place for Fast – And Not-So-Fast – RC Cars
We have RC cars, trucks, and more for every age, skill level, and budget. It may not be the fastest RC car in the world, but it will be something a bit more manageable and fun.
And we love to provide fun!
At Fundemonium, we're more than just a toy, hobby, and game store. We are a "family fun experience" – a place where families and hobby enthusiasts of all ages can meet and play. 
Fundemonium offers a safe and friendly space where adults and children of all ages can experience creative fun, while shopping a great selection of toys, games, and hobbies for your entire family. And our knowledgeable and friendly staff is committed to helping you have fun.
We do our best to quickly respond to inquiries about remote control cars (and other toys!)  through our website, but you can also find an answer to your question by calling us. 
If you'd like to speak directly with one of our Fundemoniacs during our business hours, you can call us at (707) 540-0701.
Thanks, and we'll see you soon!