Today is National Mom and Pop Business Owner Day – NO Thank You!
Don't call me Mom and Pop.
Jean and I are not some doddering couple shuffling around a quaint but unkempt little shop.
Don't call me Brick and Mortar.
Fundemonium not some crumbling old building on the corner of town.
Don't call me a Small Business.
Fundemonium is not some cheap, inconvenient, and insignificant shop that is flying under the radar.
We are a powerhouse local business supporting your community. Fiercely independent. One-hundred percent local. Community focused and dedicated to serving you.
The sentiment of National Mom and Pop Business Owner Day is great; seek out and support the locally owned and independent businesses in your community, but the words are all wrong. Article after article emphasizes smallness, age, and a self-righteousness about spending more money to benefit the community. Pay more at a local business because it is good for your community – a sort of Shop Local Tax.
You should Shop Local because it is the BEST VALUE for you. Remember that old saying, "What do you want? Cheap, Fast, or Good. Pick any two." These days, with online shopping and deep discounters, you are lucky to get just one. What do you get when you support a premium quality, independent, local business?
Look at the following benefits of shopping at Fundemonium:
Premium Personal Service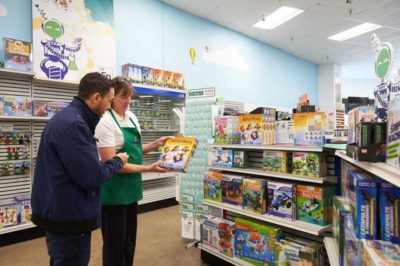 Shopping at big chains or on-line is anonymous and impersonal, they are the on-line dating sites of shopping. In fact, on-line shopping is heavily influenced by algorithms; some computer watches you search and then posts, "Buy this! Most people who looked at that bought this." Creepy. Wouldn't you rather have a friendly, knowledgeable person talk with you about your desires and expectations and then make an informed recommendation that fits your needs?
At Fundemonium we want to get to know you and why you gave us the honor of shopping with us. Once we've earned your trust and learned your goals for shopping we can advise you on what would be the perfect purchase for you.
A Wonderful Experience
Shopping a big-box, a local discounter, or an on-line store is like buying from a vending machine; put your money in, press a button, product drops out, your done. You almost feel dirty.
At a premium quality local business, like Fundemonium, you can have a satisfying, even exiting shopping experience. Our staff greet you like a friend, show you interesting things, and even surprise you with choices you may never have thought of.
Shopping at Fundemonium is like attending a party where you go home with a gift. You feel good about your purchase.
Care and Support
The big-box or on-line concept of support is, ship it back, get a refund, start over at square one. A premium quality local business, like Fundemonium, is dedicated to helping you enjoy your purchase and solving any problems you may encounter. If you have questions we can answer them. It you break it, we can fix it and even teach you how to fix it too. If there is a defect we can get it taken care of. You are never left alone, back at square one to start over.
Our repair and warranty department, known as the Restoration Station, exists to make sure your premium quality experience continues after your purchase. We expedite any warranty issues to get you the best solution. We provide free labor to repair anything you break in the first 30 days. Our motto is, "If you don't break it once in awhile, you are not having enough fun." At Fundemonium we help you fix it and have more fun.
Community Involvement
A big-box or on-line business has a crowd leaving for the check-out. A premium quality local business, like Fundemonium, attracts a supportive community to itself and in-turn supports the community it is part of. At Fundemonium, we provide a place for people to find support, gather to play, and we support the needs and goals of your community. View our Fundraising page to read about some of the ways we give back to our community. You feel like you belong to something bigger than yourself and bigger than the business, and you do.
At Fundemonium you do not just "Shop and Go," we invite you to "Stay and Play" and become part of the Fundemonium community of FUN. Check out our Events Calendar for FUN activities happening every week at Fundemonium and view our Daily Activities page to read about all the FUN activities you can do every day at Fundemonium.
So please do not celebrate just "Mom's and Pop's", or just "Bricks and Mortar", or just Small.
Celebrate instead the powerful premium quality independent local businesses that care for and support you.