There's an old saying that "All marketers are liars."
And, while we don't believe that to be true, we all know that there is a tendency for marketers to exaggerate. 
This begs the question then, is the Traxxas XO-1 really the fastest radio control car in the world?
That's the bold claim on their website:
Experts Only!

The World's Fastest RC Car

0-100mph in under 5 seconds!
They go on to describe its many high-speed features and point out its capabilities,
"0-60 in 2.3 seconds. 0-100 in 4.92 seconds. Top speed over 100mph! Simply put, the XO-1 is the most extreme Ready-To-Race® radio-controlled supercar in the world."
That sounds hyper-impressive and the fact that this speed monster is ready to go right out of the box is impressive as well. But has anyone tested the Traxxas claim that the XO-1 truly is the "World's Fastest RC Car?"
Turns out that the venerable automotive magazine icon, Car and Driver, took the XO-1 out for a spin!
High Speeds and a Scaled-Down Platform Means "Hang On!"
After comparing the opportunity to test drive the XO-1 to being the next-best-thing to testing out a Bugatti Veyron, the authors state,
"Traxxas claims its all-wheel-drive XO-1 is the world's fastest ready-to-run, electric RC supercar. It says the XO-1 can hit 60 mph in 2.3 seconds and exceed 100 mph. We figured we should see about that."
At more than two feet long and nearly a foot wide, the 1/7-scale XO-1 weighs in at a hefty 13 pounds. But, while this might seem like a substantially sized RC vehicle to manage at speeds approaching triple digits, it can be challenging.
In fact, the Car and Driver authors point out that,
"The car needs fully charged batteries and most of its 1376-foot radio range to reach triple digits, at which point it's a mere speck hurtling toward the horizon."
Their final verdict concerning the "fastest RC car in the world" claim? Their Car and Driver test result came in at zero to 60 mph in 3.3 seconds with a top speed (redline limited) of 101 mph!
True to form, the Traxxas XO-1 established additional "street cred" with an impressive showing for Car and Driver magazine. 
And they are not a lone voice when it comes to proving out the Traxxas fastest car claim.
The staff at RC Driver ran an exhaustive review and testing of the XO-1 a while back and were more than impressed by its quality, handling, and – or course – its out-and-out speed,
"Even with the standard gearing set installed, the car has such brutal acceleration I half expected to see the tires burning after each pass. While it is no secret that the XO-1 is in fact capable of 100 mph (check YouTube if you still don't believe it), I wanted to find out more about how the TSM system helps me handle the power on less than ideal conditions (something I would expect most users will end up running their XO-1 on as well). It is important to note that although you may not have a full-fledged on-road course to use, a large area like an empty parking lot is necessary because you will run out of real estate really quickly."
Keep Your Eyes on the Road, Your Hands Upon the 2-Channel Transmitter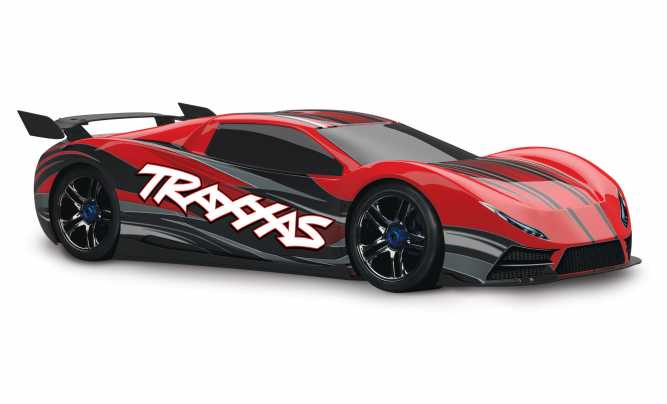 With apologies to the Doors, the speed that can be achieved with the XO-1 almost requires the addition of the Traxxas Stability Management® (TSM) system. At extreme speeds, even the smoothest road surface can be somewhat treacherous for this speed demon!
The TSM system makes it much easier to control the XO-1 on typical slippery surfaces such as dusty asphalt, smooth concrete, and even ice and snow.  According to Traxxas, the TSM system senses the vehicle's direction and makes steering corrections to help you maintain "straight-ahead full-throttle acceleration without fishtailing, spinouts, and loss of control."
The system also helps while cornering by making intuitive corrections and then allowing full-throttle earlier in the turn for much faster exit speeds. In addition, the trademarked stability management system improves braking by helping to keep the car straight through to a complete stop.
While this particular RC car has been modified by individuals who have allegedly achieved speeds even beyond 101mph, suffice it to say that the Traxxas XO-1 is indeed, "The Fastest RC Car in the World!"
Fast or Slow, and All Speeds in Between: Find an RC Toy for Your Budget and Style!
Whether you want blazing fast or slow but unstoppable, at Fundemonium we're sure to have an RC car or truck to fit your style and your budget.
We love to provide fun: whether that's through building things, playing games, or racing model cars, fun comes in a variety of flavors! And, at Fundemonium, we're much more than just a toy, hobby, and game store. Fundemonium is a "family fun experience". We are a place where families and hobby enthusiasts of all ages can meet and play. 
Fundemonium offers a safe and friendly space where adults and children of all ages can experience creative fun. People can shop for a great selection of toys, games, and hobbies for the entire family. Our knowledgeable and friendly staff is committed to helping you have fun.
We do our best to quickly respond to inquiries about remote control cars (and trucks and planes!) through our website.
You can also find an answer to your question by calling us, as well.
If you'd like to speak directly with one of our Fundemoniacs during our business hours, you can call us at (707) 540-0701.